Plugable is proud to introduce the latest and most anticipated addition to our line of Thunderbolt 3 docking stations, the Plugable Thunderbolt 3 and USB-C Dual Display Dock with 96W Host Charging, the TBT3-UDZ.
The TBT3-UDZ is our most versatile, powerful, and accessible docking station yet and offers unrivaled flexibility, with 14 ports for maximum connectivity. Its unique, exclusive design using the Intel Titan Ridge chipset allows users to connect up to two HDMI and DisplayPort port displays without the need for external adapters–one of the first Thunderbolt 3 docking stations to offer this flexibility of display types and industry maximum charging up to USB's maximum charge rate of 100W (96W certified). The dock also includes a USB-C 10Gbps port, a USB-A 10Gbps port, 5 USB 3.0 5Gbps ports, SD/Micro SD ports, Gigabit Ethernet, and a headset audio port, making way for extreme flexibility and more connectivity options. The dock allows for both vertical and horizontal orientations, meaning users can arrange their desks in any way they choose. Our custom design offers the widest Thunderbolt 3 and USB-C PC and Mac compatibility with laptops of any dock on the market.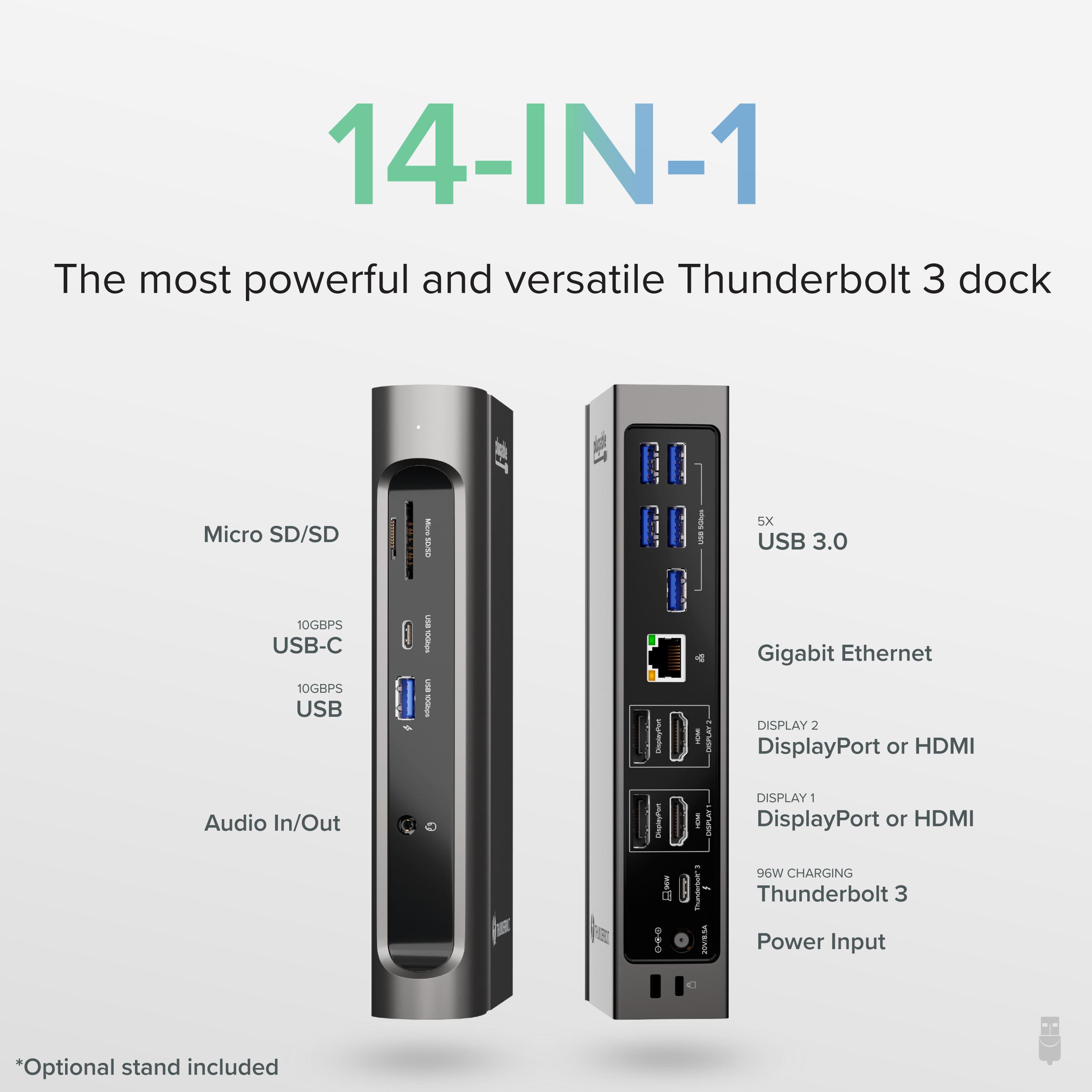 The TBT3-UDZ solves compatibility pain points that consumers have been dealing with for a long time now. These include the difference between Thunderbolt 3 and USB-C ports, HDMI versus DisplayPort, USB-C or USB-A peripheral ports, and different levels of charging wattage offered. These common confusions lead to consumers purchasing incompatible devices and even deterring consumers from purchasing at all. With the TBT3-UDZ's inclusion of both HDMI and DisplayPort ports, the variety of USB ports, Thunderbolt 3 and USB-C compatibility, and the power to charge up to 100W, consumers no longer need to guess if the docking station they're purchasing has enough power to charge their laptop or if they have an HDMI or DisplayPort monitor before making a purchase. The TBT3-UDZ eliminates confusion between these different types of technologies and relieves the consumer of being a computer accessories expert – we have done the work for you.
Using USB-C's smart Power Delivery standard, the TBT3-UDZ charges any compatible laptop at the maximum supported rate. The theoretical maximum of USB-C Power Delivery is 100W. However, the practical maximum for IEC safety standards is 96W sustained charging (100W peak). With Apple now releasing laptops with 96W chargers, such as the new 16" MacBook Pro, the TBT3-UDZ is the best docking station to pair with these devices for unrivaled performance.
The TBT3-UDZ joins our existing family of Thunderbolt 3 docking stations (TBT3-UDV, TBT3-UDC1, TBT3-UD1-83, TBT3-UD1-85W), all designed to meet the varying needs and price points of today's modern user, all of which are backed by our reputation for excellent support via our U.S. based customer support team. The Plugable TBT3-UDZ is available today in the United States and Canada on Amazon, Newegg, and Walmart for $299 with a $50 launch coupon on Amazon.com. Availability in the UK/EU, Australia, and Singapore will be open in the next few weeks due to COVID-related production and shipping delays. If you would like to sign-up to be notified of availability, please visit the product page here: https://plugable.com/products/tbt3-udz.
All Plugable products are backed by a two year limited parts and labor warranty as well as Seattle-based email customer service and technical support. If you have any additional questions, please comment below or reach out to us directly via support@plugable.com and we will be happy to help!